Well, all I would say to him if I could is…"Good Luck, Pal"
He seemed to forget that animal mysterious mutilations occur all over the world and NOT just in the American Southwest.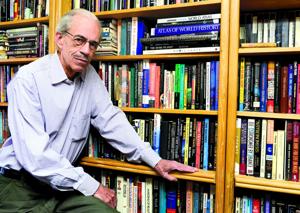 1 image David Perkins has been analyzing the strange phenomenon of cattle mutilations for decades. Clyde Mueller/The New Mexican
Quote:
---
Cattle mutilation is no bull, says Santa Fe resident David Perkins. He's been studying this strange phenomenon since the 1970s. He's written magazine and newspaper articles about it — one recent story even won him a journalism award in Colorado — and co-authored a 1982 book called
Altered Steaks
. He also has spoken at who knows how many forums, including one organized by a U.S. senator.
But after all these decades, Perkins, 69, says he really doesn't know who or what is responsible for the mutilations.
"I honestly think there's something very significant behind it. I don't know what," he said, laughing, during a recent interview at a downtown Santa Fe coffee shop. "But I know that there's something there. … It's hard to dispute that there's something unusual going on, just by the sheer number of cases, news reports, interviews, law enforcement and on and on. It's clearly a cultural phenomenon. And that's how I've approached it from the very beginning."
Cattle mutilation, he said, is "almost a Rorschach test of the American psyche, you might say."
Though there hasn't been much talk about cattle mutilations in recent years, back in the mid-1970s there were constant news reports here and elsewhere about dead cows with body parts that witnesses said had been removed in what appeared to be mysterious ways.
"Ranchers reported finding their animals dead with sexual organs removed, blood drained, and missing some combination of ear, tongue, eye, udder or patch of skin," Perkins wrote in the introduction of Stalking the Herd: Unraveling the Cattle Mutilation Mystery by Christopher O'Brien, published last year. "Rectums were frequently described as 'cored out' … the incisions were frequently described as being performed with 'surgical precision.' "
Through the years, theories have abounded. Is this the work of UFOs? Strange cults? Some secret government project? Or some strange combination — a Satanic cult within the government?
Or is it just completely nuts? Is it something that only some kind of kook would pursue?
"I'm always battling the credibility issue, because it's such a weird topic," Perkins said in the interview.
…
---
Sunday Spotlight: Santa Fe man aims to solve mystery of cattle mutilations – Features – Santa Fe New Mexican